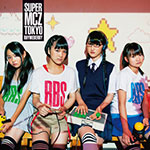 Rhymeberry's new single SuperMCZTokyo will be released on July 31.
It is the 3rd single from Rhymeberry.
The MV and videos recorded during a live performance has been unveiled.
The single features 2 songs and their instrumental versions.
The tracklist is the same for all editions. They come with a sticker randomly selected from 5 kinds.
The limited edition has a different cover jacket.
Moreover, Rhymeberry will hold their 1st one-man live Magic Party (ライムベリー1stワンマンライブ Magic Party) on August 11 at WWW Shibuya in Tokyo.
Tracklist
SuperMCZTokyo
We Did It
SuperMCZTokyo (Instrumental)
We Did It (Instrumental)
Music Video (PV)
Video (Live)