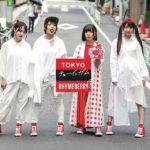 Rhymeberry will release their new single Tokyo Chewing Gum (TOKYO チューインガム) on July 12.
This is the 7th single of the idol group.
MC YUIKA made her first appearance with Rhymeberry on this single. She was introduced in June. The group now includes 1 DJ (OMOCHI) and 3 MCs (MIRI, MISAKI and YUIKA), a structure similar to that of the group with its original members during its debut between 2011 and 2014 ; the unit regained its quartet status.
The music video was unveiled. The members of Rhymeberry wear clothes designed by Bedsidedrama, take to the streets of Tokyo and performing rap battles against MCs from the United Kingdom, Brazil and the United States.
The lyrics were written by the Kamisuzuki Brothers and Saito Ryoji (from the group P.O.P) who also composed the music.
Tracklist
CD

Tokyo Chewing Gum (TOKYOチューインガム)
WANDERLAND
Tokyo Chewing Gum (Instrumental)
Music Video (PV)