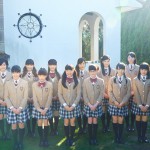 Sakura Gakuin (さくら学院) is a Japanese idol group formed in April 2010.
It currently consists of 9 members.
Biography / History
The concept is that Sakura Gakuin works as an academy. The members must be up to junior high school students. When they graduate from junior high school, they also graduate from the group and are replaced by youngest ones.
The leader also holds the title of "student council president".
Sakura Gakuin has some sub-units representing after school clubs :
Baton Club (バトン部) Twinklestars
Heavy Metal Club (重音部) Babymetal
Cooking Club (クッキング部) Mini-Patissier (ミニパティ)
Newspaper Club (新聞部) Scooper
Go Home Club (帰宅部) sleepiece
Tennis Club (テニス部) Pastel Wind
Science Club (科学部) Kagaku Kyumei Kiko Logica? (科学究明機構ロヂカ?)
Pro-Wrestling Club (プロレス同好会)
Purchasing Club Koubaibu (購買部)
Sakura Gakuin held their 1st live performance in November 2010.
Their debut single Yume ni Mukatte / Hello! Ivy (夢に向かって / Hello! Ivy) was released in December 2010. The uniforms were made in collaboration with Ivy Comme Ca, Mono Comme Ca.
Sakura Gakuin changed of label in October 2011. They were transferred from Toy's Factory (トイズファクトリー) to Universal Music Japan (ユニバーサルJ).
The idol unit participated in a CM for NTT Eastern Japan Flet's Hikari WiFi (NTT東日本 Flet's 光 WiFi) in late 2011.
Kikuchi Moa and Mizuno Yui hosted a segment on the show Saku Saku broadcast on TV Kanagawa (テレビ神奈川) between May 2011 and March 2013.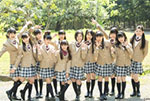 Their variety show Sakura Gakuin Sun (さくら学院) started airing on Tokyo MX (東京MX) in January 2012.
Horiuchi Marina and Sato Hinata performed as voice actresses (seiyuu) in the anime Kutsudaru (くつだる。) which was broadcast from April 2014 to September 2015 on NHK Eテレ.
The best-of album Houkago Anthology from Sakura Gakuin (放課後アンソロジー from さくら学院) was released on May 2014. It includes the greatest hits from the sub-units Babymetal, Twinklestars, Pastel Wind, sleepiece, Mini-Patissier, Kagaku Kyumei Kiko Logica? and Scoopers.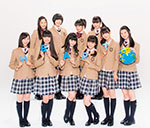 Pro-Wrestling Club and Purchasing Club Koubaibu were created in September 2014.
Their first DVD single Heart no Hoshi (ハートの地球) was released in October 2014.
Mizuno Yui, Kikuchi Moa, Taguchi Hana and Notsu Yunano graduated in March 2015.
The photobook Ever After was published in December 2015. It commemorated the 5th anniversary of the debut of the idol group.
In February 2016, the members of Mini-Patissier cooked omurice (omelette with fried rice). The dish was part of a special menu at Tower Records Cafe in Shibuya and Omotesando.
Isono Rinon, Ooga Saki, Shirai Saki graduated after the release of the album Sakura Gakuin 2015 Nendo ~Kirameki no Kakera~ (さくら学院 2015年度 ~キラメキの雫~) in March 2016.
Profile
Sakura Gakuin (さくら学院)
Years active : 2010 – present
Label : Universal Music Japan
Agency : Amuse Inc.
Members
Kurashima Sara (倉島颯良)
Kurosawa Mirena (黒澤美澪奈)
Yamaide Aiko (山出愛子)
Okada Megumi (岡田愛)
Okazaki Momoko (岡崎百々子)
Aso Maaya (麻生真彩)
Hidaka Marin (日髙麻鈴)
Yoshida Soyoka (吉田爽葉香)
Fujihira Kano (藤平華乃)
Former Members
Muto Ayami (武藤彩未)
Miyoshi Ayaka (三吉彩花)
Matsui Airi (松井愛莉)
Nakamoto Suzuka (中元すず香)
Sugimoto Mariri (杉本愛莉鈴)
Horiuchi Marina (堀内まり菜)
Iida Raura (飯田來麗)
Sugisaki Nene (杉崎寧々)
Sato Hinata (佐藤日向)
Mizuno Yui (水野由結)
Kikuchi Moa (菊地最愛)
Taguchi Hana (田口華)
Notsu Yunano (野津友那乃)
Isono Rinon (磯野莉音)
Ooga Saki (大賀咲希)
Shirai Saki (白井沙樹)
Discography
Singles
08/12/2010 : Yume ni Mukatte / Hello! Ivy (夢に向かって / Hello! Ivy)
21/12/2011 : Verishuvi (ベリシュビッッ)
15/02/2012 : Tabidachi no Hi ni (旅立ちの日に)
05/09/2012 : Wonderful Journey
27/02/2013 : My Graduation Toss
09/10/2013 : Ganbare!! (顔笑れ!!)
12/02/2014 : Jump Up ~Chiisana Kiseki~ (Jump Up ~ちいさな勇気 ~)
22/10/2014 : Heart no Hoshi (ハートの地球)
04/03/2015 : Aogeba Toutoshi ~From Sakura Gakuin 2014~ (仰げば尊し ~From さくら学院 2014~)
08/12/2015 : School Days -2015-
Other Singles
23/11/2011 : Friends
27/09/2015 : Mathematica! (マセマティカ!)
Albums
27/04/2011 : Sakura Gakuin 2010 Nendo ~Message~ (さくら学院 2010年度 ~Message~)
21/03/2012 : Sakura Gakuin 2011 Nendo ~Friends~ (さくら学院 2011年度 ~Friends~)
13/03/2013 : Sakura Gakuin 2012 Nendo ~My Generation~ (さくら学院 2012年度 ~My Generation~)
12/03/2014 : Sakura Gakuin 2013 Nendo ~Kizuna~ (さくら学院 2013年度 ~絆~)
05/05/2014 : Houkago Anthology from Sakura Gakuin (放課後アンソロジー from さくら学院)
25/03/2015 : Sakura Gakuin 2014 Nendo ~Kimi ni Todoke~ (さくら学院 2014年度 ~君に届け~)
03/03/2016 : Sakura Gakuin 2015 Nendo ~Kirameki no Kakera~ (さくら学院 2015年度 ~キラメキの雫~)
Links
News