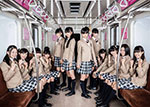 Sakura Gakuin (さくら学院) is a Japanese idol group formed in 2010 by Amuse Inc. It currently consists of 12 members.
The concept is that Sakura Gakuin works as an academy. The members must be up to junior high school students. When they graduate from juinor high school, they also graduate from the group and are replaced by youngest ones.
The leader also holds the title of "student council president".
Sakura Gakuin has some sub-units representing after school club :
Baton Club (バトン部) Twinklestars
Heavy Metal Club (重音部) Babymetal
Cooking Club (クッキング部) Mini-Patissier (ミニパティ)
Newspaper Club (新聞部) Scooper
Go Home Club (帰宅部) sleepiece
Tennis Club (テニス部) Pastel Wind
Science Club (科学部) Kagaku Kyumei Kiko Logica? (科学究明機構ロヂカ?)
Profile
Sakura Gakuin (さくら学院)
Years active : 2010 – present
Label : Universal Music Japan
Agency : Amuse Inc.
Members
Iida Raura (飯田來麗)
Horiuchi Marina (堀内まり菜)
Sugisaki Nene (杉崎寧々)
Sato Hinata (佐藤日向)
Mizuno Yui (水野由結)
Kikuchi Moa (菊地最愛)
Taguchi Hana (田口華)
Isono Rinon (磯野莉音)
Notsu Yunano (野津友那乃)
Ooga Saki (大賀咲希)
Shirai Saki (白井沙樹)
Yamaide Aiko (山出愛子)
Former Members
Muto Ayami (武藤彩未)
Miyoshi Ayaka (三吉彩花)
Matsui Airi (松井愛莉)
Nakamoto Suzuka (中元すず香)
Sugimoto Mariri (杉本愛莉鈴)
Discography
Singles
08/12/2010 : Yume ni Mukatte / Hello! Ivy (夢に向かって / Hello! Ivy)
21/12/2011 : Verishuvi (ベリシュビッッ)
15/02/2012 : Tabidachi no Hi ni (旅立ちの日に)
05/09/2012 : Wonderful Journey
27/02/2013 : My Graduation Toss
09/10/2013 : Ganbare!! (顔笑れ!!)
Other Singles
Albums
27/04/2011 : Sakura Gakuin 2010 Nendo ~Message~ (さくら学院 2010年度 ~Message~)
21/03/2012 : Sakura Gakuin 2011 Nendo ~Friends~ (さくら学院 2011年度 ~Friends~)
13/03/2013 : Sakura Gakuin 2012 Nendo ~My Generation~ (さくら学院 2012年度 〜My Generation〜)
Links
News