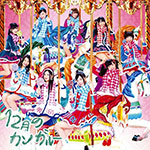 SKE48's 16th single 12 Gatsu no Kangaroo (12月のカンガルー) will be released on December 10th.
The list of the 22 Senbatsu members and the centers have been unveiled during SKE48 Request Hour Setlist Best 2014 at the Nagoya Congress Center Century Hall​.
Check out the video of the announcement, the teaser trailer and the music videos.
The double centers are Kitagawa Ryoha and Miyamae Ami.
Senbatsu
Azuma Rion, Oya Masana, Kitagawa Ryoha, Futamura Haruka, Matsui Jurina, Miyazawa Sae, Miyamae Ami, Yamauchi Suzuran, Watanabe Miyuki, Oba Mina, Souda Sarina, Takayanagi Akane, Furukawa Airi, Furuhata Nao, Yamada Nana, Iwanaga Tsugumi, Kimoto Kanon, Sato Sumire, Shibata Aya, Suda Akari, Tani Marika, Matsui Rena
The limited editions come with a ticket to participate in a handshake event with the members of the idol group.
Furthermore, the idol group celebrated SKE48 Theater Debut 6th anniversary on October 4-5.
Tracklist
Type A

CD

12 Gatsu no Kangaroo (12月のカンガルー)
Kesenai-en (消せない炎) (Team S)
I Love Aichi (Aichi Toyota Senbatsu)
12 Gatsu no Kangaroo (Off vocal)
Kesenai-en (Off vocal)
I Love Aichi (Off vocal)

DVD

12 Gatsu no Kangaroo (Music Video)
Kesenai-en (Music Video)
Bonus Footage 1 (特典映像 I)
Type B

CD

12 Gatsu no Kangaroo (12月のカンガルー)
Da Da Machine Gun (DA DA マシンガン) (Team KII)
I Love Aichi (Aichi Toyota Senbatsu)
12 Gatsu no Kangaroo (Off vocal)
Da Da Machine Gun (Off vocal)
I Love Aichi (Off vocal)

DVD

12 Gatsu no Kangaroo (Music Video)
Da Da Machine Gun (Music Video)
Bonus Footage 2 (特典映像 II)
Type C

CD

12 Gatsu no Kangaroo (12月のカンガルー)
Seishun Curry Rice (青春カレーライス) (Team E)
I Love Aichi (Aichi Toyota Senbatsu)
12 Gatsu no Kangaroo (Off vocal)
Seishun Curry Rice (Off vocal)
I Love Aichi (Off vocal)

DVD

12 Gatsu no Kangaroo (Music Video)
Seishun Curry Rice (Music Video)
Bonus Footage 3 (特典映像 III)
Type D

CD

12 Gatsu no Kangaroo (12月のカンガルー)
Ai no Rule (愛のルール) (Four of a Kind)
I Love Aichi (Aichi Toyota Senbatsu)
12 Gatsu no Kangaroo (Off vocal)
Ai no Rule (Off vocal)
I Love Aichi (Off vocal)

DVD

12 Gatsu no Kangaroo (Music Video)
Ai no Rule (Music Video)
Bonus Footage 4 (特典映像 IV)
Theater Edition

CD

12 Gatsu no Kangaroo
I Love Aichi (Aichi Toyota Senbatsu)
SKE48 16th Single Medley
Kesenai-en (Off vocal)
I Love Aichi (Off vocal)
Music Video (PV)
Video