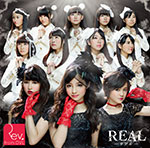 Rev. from DVL's new single Real / Koi Iro Passion (Real-リアル- / 恋色パッション) wil be released on December 3rd.
It is the 3rd single of Rev. from DVL and the first one of the idol group with a double A-side.
The MV has been unveiled.
Several versions of the single, with different covers, are available : a regular, a limited and a special edition (the B-side tracks are different depending on the version).
The regular edition has only one CD. The limited editions inclut a bonus DVD (with the music video and its dance version, the making-of, and the choreography of the coupling song).
The special editions comes with a booklet and a lottery ticket to participate in an event of the idol group.
Furthermore, Hashimoto Kanna's 1st photobook Little Star ~Kanna 15~ will be on sale on November 14th.
Tracklist
Regular Edition

CD

Real (リアル)
Koi Iro Passion (恋色パッション)
Live & Peace
Gai Kanjou-sen (外環状線)
Real (Instrumental)
Koi Iro Passion (Instrumental)
Live & Peace (Instrumental)
Gai Kanjou-sen (Instrumental)
Limited Edition

CD

Real
Koi Iro Passion
Tsukanoma no Koufuku-ron (束の間の幸福論)
Real (Instrumental)
Koi Iro Passion (Instrumental)
Tsukanoma no Koufuku-ron (Instrumental)

DVD

Real (Music Video)
Real (Clip Dance ver.)
Making-of (ミュージックビデオ メイキング映像)
Koi Iro Passion (Choregraphy Video)
Special Edition

CD

Koi Iro Passion
Real
Koi no Monster (恋のMonster)
Koi Iro Passion (Instrumental)
Real (Instrumental)
Koi no Monster (Instrumental)

Bonus

Booklet
Event Sanka-ken ※ Shousai wa Gojitsu Happyou (イベント参加券 ※詳細は後日発表)
"Aikatsu!" Original Card (「アイカツ!」オリジナルカード)
Music Video (PV)