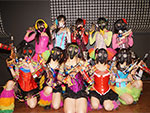 Steamgirls (スチームガールズ) is a Japanese idol group formed in 2012. It currently consists of 9 members.
It is a cyber gothic / steampunk unit.
Steamgirls is part of Alice Project. The unit is a sister group of Alice Juban, Oz, and Machikado Keiki Japan. Sakura Yuki is also a member of the latter.
The members participate in the sub-units Cherry Blossom, Prism, Pureful, Soup Girls, and White Milk.
They perform regularly at P.A.R.M.S. Theater in Akihabara, Tokyo.
Profile
Steamgirls (スチームガールズ)
Years active : 2012 – present
Label : -
Agency : Kleeblatt
Members
Kameda Reona (亀田伶央奈)
Sakura Rina (佐倉梨杏)
Sawada Risa (澤田リサ)
Sakura Yuki (桜雪)
Koyanagi Tomoe (小柳朋恵)
Kurose Sara (黒瀬サラ)
Araya Satsuki (新矢皐月)
Tsukimiya Karen (月宮かれん)
Kamiya Erina (神谷えりな)
Former Members
Discography
Singles
Mirai no Hikari -Erai Yaccha Jinrui- (未来ノヒカリ-えらいやっちゃ人類-)
Sailing Day ~Funade~ (Sailing Day ~フナデ~)
Destiny
Fate
Days / Seishun Houseki (Days / 青春宝石)
Radio Kaikan no Uta (ラジオ会館のうた)
Collaboration Singles
06/03/2013 : Kamen Joshi (仮面女子) (Alice Juban & Steamgirls)
Albums
Links
News