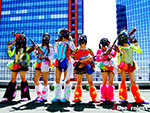 Steamgirls (スチームガールズ), or Steam Girls, is a Japanese idol group formed in 2012.
The girls are part of Alice Project.
Steamgirls belong to Kamen Joshi (仮面女子) along with Alice Juban and Armor Girls.
Summary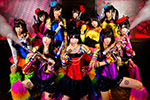 The idol group currently consists of 6 members.
The leader is Kamiya Erina.
The center is Kurose Sara.
Kamiya Erina is also a gravure idol.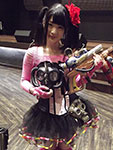 It is a cyber gothic / steampunk idol unit. On stage, the members wear a gas mask and have a steam gun with a laser pointer.
Steamgirls are a sister group of Alice Juban, Armor Girls, Oz, Machikado Keiki Japan, Game Girls, Idol Yokai Kawayushi, and Alice of Nightmare.
The members were also part Cherry Blossom, Prism, Pureful, Soup Girls, and White Milk sub-units.
The idol group holds live performances almost every day at P.A.R.M.S Theater in Akihabara, Tokyo.
Related articles :
Biography / History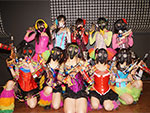 Steamgirls were created in October 2012. The 10 original members were Araya Satsuki, Sakura Yuki, Sakura Rina, Kawamura Nanaka, Sawada Risa, Koyanagi Tomoe, Kamiya Erina, Kurose Sara, Tsukimiya Karen and Kameda Reona.
The idol group made its live debut at P.A.R.M.S Theater in January 2013.
Kawamura Nanaka was transferred to Alice Juban in August 2013.
As a result, Kurose Sara was appointed in center position at the same period.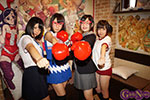 In November 2013, Koyanagi Tomoe and other members of Alice Project participated in a special event to promote Oshioki Punch Girl!!! (おしおき☆パンチガール!!!) video game.
In January 2014, Steamgirls collaborated with Nagano Kouiki Kouryuu Joshi 長野広域交流女子) campaign to promote Nagano area.
Sakura Yuki was promoted to Alice Juban in April 2014.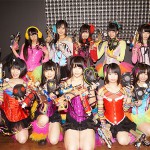 Kameda Reona graduated from Steamgirls in April 2014.
Kamen Joshi 1st one-man live was held in May 2014 at Zepp Tokyo.
Tsukimiya Karen passed away in July 2014. She died in an accident.
Koyanagi Tomoe was starring in Alice no Kamigakushi (アリスの神隠し) movie alongside Armor Girls' Ito Miu and Alice Juban's Sakura Nodoka and Hayase Amu in July 2014.
Alice no Heya Genkidane! (アリスの部屋 元気種!) video game featuring the members of the idol group was released in September 2014.
Steamgirls held a live performance at the 7th Seoul Girls Collection "SGC Super Live in Seoul" in South Korea September 2014.
Sakura Rina graduated in September 2014.
Asakura Sayaka was transferred from Oz in September 2014.
Kamen Joshi performed the CM song for Marine Road (マリン☆ロード) in October 2014.
The idol group sang the opening theme for Hero Bank (ヒーローバンク) anime in October 2014.
Steamgirls participated in Sailor Collection 2014 (セーラーガールズコレクション2014) as models in October.
The girls launched and promote Akiba Sandals (あきばサンダル) since the end of 2014. These shoes have a monster-like design.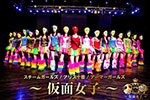 Kamen Joshi's single Genkidane (元気種☆) reached the 1st rank on the Oricon weekly chart in January 2015.
Kawamura Nanaka appeared in Motokomon Z (水戸黄門Z) movie in January 2015.
Kamen Joshi's 1st photobook Mizugi Kamen (水着仮面 仮面女子) was published in February 2015. It features sexy pictures of popular members Tachibana Anna, Kamiya Erina and Amaki Jun in swimsuit, under the shower…
The girls participated in a commercial for S Cup (エスカップ) in February 2015.
Araya Satsuki and Koyanagi Tomoe announced their graduation from Steamgirls in February 2015.
Sawada Risa was transferred to Alice Juban in April 2015.
Mizusawa Mai, Hoshi Aina, Maeda Natsumi and Sakamoto Mana were promoted from Oz to Steamgirls in April 2015.
Yarikiri! Kamen Joshi ~Tenka Torunara Icchatte!~ (やりきり!仮面女子 ~天下取るなら、イッちゃって!~) TV variety show started airing on Tokyo MX in April 2015.
Asakura Sayaka left the idol group in May 2015.
They participated in Countdown Asia Festival in Jakarta, Indonesia, in June 2015.
Profile
Steamgirls (スチームガールズ)
Years active : 2012 – present
Label : Destroy Record
Agency : Alice Project
Members
Kamiya Erina (神谷えりな)
Kurose Sara (黒瀬サラ)
Hoshi Aina (星愛奈)
Maeda Natsumi (前田なつみ)
Mizusawa Mai (水沢まい)
Sakamoto Mana (坂本舞菜)
Former Members
Kawamura Nanaka (川村虹花)
Sakura Yuki (桜雪)
Kameda Reona (亀田伶央奈)
Tsukimiya Karen (月宮かれん)
Sakura Rina (佐倉梨杏)
Koyanagi Tomoe (小柳朋恵)
Araya Satsuki (新矢皐月)
Sawada Risa (澤田リサ)
Asakura Sayaka (朝倉彩花)
Discography
Singles
Mirai no Hikari -Erai Yaccha Jinrui- (未来ノヒカリ-えらいやっちゃ人類-)
Sailing Day ~Funade~ (Sailing Day ~フナデ~)
Destiny
Fate
Days / Seishun Houseki (Days / 青春宝石)
Radio Kaikan no Uta (ラジオ会館のうた)
Don't Cry (どんくさい)
Yasashii Kaze (優しい風)
Naga-Naga-Nagano
Alice no Ori (アリスの檻)
Cosmic Love
Shiny Love
Open my Eyes
Kaminari Adventure (雷・アドベンチャー)
Kamen Joshi Singles
06/03/2013 : Kamen Joshi (仮面女子)
11/12/2013 : Mousou Nikki (妄想日記)
Love Is All
01/01/2015 : Genkidane (元気種☆)
Albums
Links
News