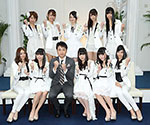 Super☆Girls will host a new regular variety show titled Joshiryoku Up Variety (女子力アップバラエティ) "Girls TV! feat. Super☆Girls".
The program will start airing on April 2 (25:04 ~ 25:34). Then it will be broadcasted every Tuesday on Nihonkai TV (日本海テレビ).
Cheeky Parade and Idol Street Street-sei will also make some appearances in the show.