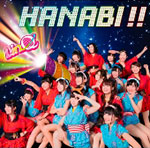 LinQ's 2nd major single Hanabi!! will be released on August 7.
2 versions of the coupling track LaLaLa are available. Each one of them is performed by LinQ's teams Qty or Lady.
The limited editions come with a bonus DVD featuring the music video, the making-of, or some footage from Chime ga Owareba (チャイムが終われば) live events held in Fukuoka and Tokyo depending on the type.
The title song was written by Shinta. It is a "love song for summer festival".