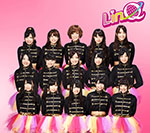 LinQ's major debut single Chime ga Owareba (チャイムが終われば) will be released on April 17.
The limited editions contain different coupling songs. Type A and B include a bonus DVD featuring the music video and/or special footage. Type C comes with a 24-page photo booklet.
The single will be released on the day of the 2nd anniversary of the idol group from Kyushu.
It is their 1st single under Warner Music Japan label.
Regular Edition
CD

Chime ga Owareba (チャイムが終われば)
Zenryoku Everyday (全力Everyday)
Lie
Limited Edition Type A
CD

Chime ga Owareba (チャイムが終われば)
Zenryoku Everyday (全力Everyday)
Chime ga Owareba (チャイムが終われば) (Instrumental)
Zenryoku Everyday (全力Everyday) (Instrumental)
DVD

Chime ga Owareba (チャイムが終われば) (Music Video)
Bonus Video (特典映像)
Limited Edition Type B
CD

Chime ga Owareba (チャイムが終われば)
Lie
Chime ga Owareba (チャイムが終われば) (Instrumental)
Lie (Instrumental)
DVD

Music On! TV Special [Hajimemashite! "LinQ" Shitto?] (Music On! TV特番[ハジメマシテ!"LinQ"知っとぉ?]) -Special Edit-
Limited Edition Type C
CD

Chime ga Owareba (チャイムが終われば)
Chime ga Owareba (チャイムが終われば) (Shinta Planet Remix)
Chime ga Owareba (チャイムが終われば) (Instrumental)
Chime ga Owareba (チャイムが終われば) (Shinta Planet Remix) (Instrumental)
24-page Photo Booklet (24Pフォトブックレット仕様)