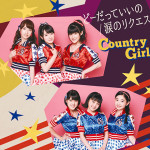 Country Girls will release their 4th single Dou Datte Ii no / Namida no Request (どーだっていいの / 涙のリクエスト) on September 28.
The MVs were unveiled.
This is the first single from the official graduation of Inaba Manaka on August 4. She had suspended her activities because of asthma attacks in last April, but she hadn't fully recovered, and she had to leave the idol group.