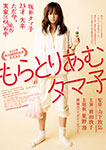 The movie Moratorium Tamako (もらとりあむタマ子, Tamako in Moratorium) starring Maeda Atsuko will be released on DVD and Blu-ray on June 25.
Former AKB48 member Atsuko Maeda plays the role of Tamako, a girl who has just graduated from a university in Tokyo and who is back to her hometown of Kofu. Without a job, she spends her time eating, sleeping, reading manga, and playing video games instead of helping her father living alone with her…
Check out the trailer.