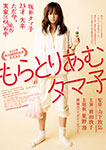 The movie Moratorium Tamako (もらとりあむタマ子, Tamako in Moratorium) starring Maeda Atsuko will be released on DVD and Blu-ray on June 25.
Former AKB48 member Atsuko Maeda plays the role of Tamako, a girl who has just graduated from a university in Tokyo and who is back to her hometown of Kofu. Without a job, she spends her time eating, sleeping, reading manga, and playing video games instead of helping her father living alone with her…
Check out the trailer.
The film was directed by Yamashita Nobuhiro.
Moratorium Tamako was premiered at the Busan International Film Festival in October 2013.
The movie was released in theaters in Japan on November 23, 2013.
The DVD and the Blu-ray include making-of footage, comments by Maeda Atsuko.
Trailer