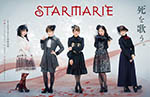 "Singers of death" Starmarie have released Spell Of The Book, another trademark "dark fantasy" themed track, for free listening.
Their "hard" sound appeals to the aural senses, but Starmarie shines with their lyrics.
The lyrics are structured like a so-called "book", beginning with a synopsis, running through the first through final chapters, and concluding with an epilogue.