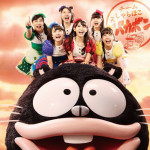 Team Syachihoko's 5th single Tensai Bakabon (天才バカボン) will be released on May 13.
It is the opening theme song for the anime movie of the same title based upon the manga created by Akatatsuka Fujio.
The music video has been unveiled. More than 5000 clones of Team Syachihoko members participate in a strange parade in colorful streets.