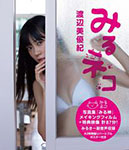 Watanabe Miyuki will release her 1st DVD and Blu-ray Miru Neko (みるネコ) on July 2.
The DVD and the Blu-ray include making-of footage of her 1st photobook Mirugami (みる神), which was released on November 20, 2012, and other bonus videos for a total of 87 minutes.
Watanabe Miyuki is part of NMB48 Team N and a tempory member of AKB48 Team B.
Video Digest