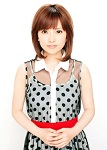 Abe Natsumi Birthday Live 2013 +♪The Beating♪+ will be released on DVD on December 18.
The solo concert was held by Abe Natsumi on August 10, 2013 at Zepp DiverCity in Tokyo.
The former Morning Musume and Hello! Project members Nakazawa Yuko, Niigaki Risa, Yasuda Kei and Ogawa Makoto participated in the live performance as guests.
The DVD includes bonus footage.
Setlist
Opening
Ameagari no Niji no you ni (雨上がりの虹のように)
Soyokaze (微風)
Yume Naraba (夢ならば)
Best Friend
Otoko Tomodachi (男友達)
Ai Araba It's All Right (愛あらば It's All Right (with Ogawa Makoto)
Ame no Furanai Hoshi de wa Aisenai Darou? (雨の降らない星では愛せないだろう?)
Takaramono (たからもの) (Summer Arrangement)
Itoshiki Hito (愛しき人) (Birthday Arrangement)
Band Performance
Senkou Hanabi (せんこう花火)
Yuugure Sakusen Kaigi (夕暮れ作戦会議)
Anata Iro (あなた色)
Kuchibiru Tomete (くちびるで止めて)
Suki de ×5 (好きで×5) (with Yasuda Kei)
Toumokoshi to Sora to Kaze (トウモロコシと空と風)
Manatsu no Kousen (真夏の光線)
Ending
Otoko Tomodachi (男友達) (with Niigaki Risa)
Ame no Furanai Hoshi de wa Aiseinai Darou? (雨の降らない星では愛せないだろう?) (with Nakazawa Yuko)