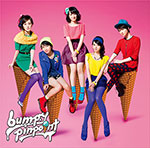 bump.y's new album Pinpoint will be released on December 18.
This is the 1st original album from bump.y. It celebrates the 4th anniversary of the idol group.
The CD contains 10 songs including bump.y's latest singles Cosmo no Hitomi and Savage Heaven.
The limited edition includes a DVD with the music videos and bonus footage.
The song Another Smile is performed by the sub-unit By consisting of Miyatake Mio and Takatsuki Sara.
Savage Heaven and Cosmo no Hitomi are the theme songs for the drama Limit (リミット) starring Sakuraba Nanami.

The album is produced by Nona Reeves.
Tracklist
CD

Kodoku ni Vivid (孤独にVivid)
Koi wa pinpoint (恋はpinpoint)
Kizuato Heavy Soul (傷痕 Heavy Soul)
Cosmo no Hitomi (Cosmoの瞳)
Romantic Maybe (ロマンティック Maybe)
Dream Beat ni Tobinotte (Dream Beat に飛び乗って)
Another Smile
Savage Heaven
Glass no Magic (硝子のMagic)
Cry
DVD (Limited Edition)

Happy bump.y!!!!! "Tairyoku Sokutei" Hen (「体力測定」編)
Members Fukuonsei Commentary Tsuki PV "Gotta Getcha" "Cosmo no Hitomi" "Savage Heaven" (メンバー副音声コメンタリー付きPV「ガラゲッチャ」「Cosmoの 瞳」「Savage Heaven」)
Kodoku ni Vivid (孤独にVivid) (Music Video)
Kodoku ni Vivid (孤独にVivid) (Making-of)