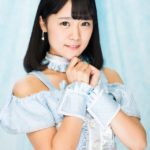 As of December 1st, the "first old-school idol group in 3000 years" SAY-LA has been operating as a 6-girl unit with the addition of Yoshinaga Miina. During a joint live performance, SAY-LA & BABY TO KISS Emergency Show with Important Announcement, Agarie Hikari shared that she will be graduating on January 7, Sunday, at Shibuya WWW-X's 3000-Nen ni Ichido no Happiness release event (single to be released on January 2nd), SAY-LA's Agarie Hikari's Graduation Solo Show.
SAY-LA has had some notable achievements leading up to Agarie Hikari's graduation: Their 1st single, Kojirase Kataomoi was ranked #1 on the Oricon Daily Chart, their 1st live show DVD, Kojirase Kinnenbi was also ranked #1 on the Oricon Daily Chart and #2 on the Oricon Weekly Chart.
Agarie Hikari's statement:
« Please forgive the sudden graduation announcement.
In the last two years and three months, SAY-LA has reached some major goals: our single's release, a wonderful live show in Kyushu… It all feels like a dream come true, and I couldn't be happier. I am so grateful to have met wonderful fans who have loved and supported me the whole way. I am grateful that I didn't give up on my dreams of being an idol due to my age.
This is going to sound like a selfish ask, but I would like to ask for your support for my idol career over the next month. I want to extend my gratitude to everyone who has supported me. SAY-LA's 2nd single, 3000-nen ni Ichido no Happiness will be released on January 2nd. I am thankful that I was able to be a part of that project. I will project myself 1000% into SAY-LA's efforts so that as many as people as possible listen to our new album. Thank you!
Agari☆ »
We wish her all the best in her future endeavors.