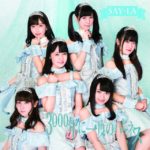 SAY-LA will release their new single 3000 nen and Ichido no Happiness (3000 年 に 一度 の ハ ハ ネ ネ ス) on January 2nd.
It's the 2nd single single of the "first group of old-school idols in 3000 years" and the first with the new member Yoshinaga Miina.
It is also the last disc by SAY-LA featuring Agarie Hikari who will graduate on January 7th.
Check out the MV below.
The single will be sold in two editions.
The tracklist changes from the 3rd track.
Tracklist
Type A

CD

3000 nen ni Ichido no Happiness (3000年に一度のハピネス)
Koi Suru Kimi ni Koishiteru (恋する君に恋してる)
MARIA
Type B

CD

3000 nen ni Ichido no Happiness (3000年に一度のハピネス)
Koi Suru Kimi ni Koishiteru (恋する君に恋してる)
BELIEVE
Music Video (PV)