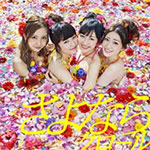 AKB48's 31st single Sayonara Crawl (さよならクロール) will be released on May 22.
The CD contains 3 songs and their instrumental versions. 3 types entitled A, K, and B are available. The 1st and the 2nd track are the same for each one of them.
The regular and the limited editions come with a DVD featuring music videos and bonus footage.
The single includes a voting card for the AKB48 32nd Single Senbatsu Sousenkyo (AKB48 32ndシングル 選抜総選挙).
The limited editions also include a ticket for a handshake event and a photobook by Ninagawa Mika.
Type A
CD

Sayonara Crawl (さよならクロール)
Bara no Kajitsu (バラの果実) (Under Girls)
Ikiru Koto (イキルコト) (Team A)
Sayonara Crawl (さよならクロール) (Instrumental)
Bara no Kajitsu (バラの果実) (Instrumental)
Ikiru Koto (イキルコト) (Instrumental)
DVD

Sayonara Crawl (さよならクロール) (Music Video)
Sayonara Crawl (さよならクロール) (Music Video ~Swimsuit Ver.~)
Bara no Kajitsu (バラの果実) (Music Video)
Ikiru Koto (イキルコト) (Music Video)
Sayonara Crawl (さよならクロール) (Making-of 1st Part)
Bonus Footage (特典映像) (Type A)
Type K
CD

Sayonara Crawl (さよならクロール)
Bara no Kajitsu (バラの果実) (Under Girls)
How Come? (Team K)
Sayonara Crawl (さよならクロール) (Instrumental)
Bara no Kajitsu (バラの果実) (Instrumental)
How Come? (Instrumental)
DVD

Sayonara Crawl (さよならクロール) (Music Video)
Sayonara Crawl (さよならクロール) (Music Video ~Swimsuit Ver.~)
Bara no Kajitsu (バラの果実) (Music Video)
How Come? (Music Video)
Sayonara Crawl (さよならクロール) (Making-of 2nd Part)
Bonus Footage (特典映像) (Type K)
Type B
CD

Sayonara Crawl (さよならクロール)
Bara no Kajitsu (バラの果実) (Under Girls)
Romance Kenjuu (ロマンス拳銃) (Team K)
Sayonara Crawl (さよならクロール) (Instrumental)
Bara no Kajitsu (バラの果実) (Instrumental)
Romance Kenjuu (ロマンス拳銃) (Instrumental)
DVD

Sayonara Crawl (さよならクロール) (Music Video)
Sayonara Crawl (さよならクロール) (Music Video ~Swimsuit Ver.~)
Bara no Kajitsu (バラの果実) (Music Video)
Romance Kenjuu (ロマンス拳銃) (Music Video)
Sayonara Crawl (さよならクロール) (Making-of 1st Part)
Bonus Footage (Type B)