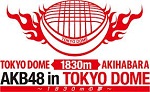 AKB48 in Tokyo Dome ~1830m no Yume~ (AKB48 in Tokyo Dome ~1830mの夢~) DVD and Blu-ray will be released on December 19.
DVD and blu-ray box sets include all 3-day performances in 6 discs. They also contain an extra disc featuring making-of and bonus video footage. They come with 5 photos and a 132-page booklet.
Single Selection edition includes all single tracks performed at the live. It comes with a photo.
AKB48's Concert in Tokyo Dome was held from August 24 to 26.
Special Box
DVD & Blu-ray

Disc 1-2 : AKB48 in Tokyo Dome ~1830m no Yume~ (Day 1)
Disc 3-4 : AKB48 in Tokyo Dome ~1830m no Yume~ (Day 2)
Disc 5-6 : AKB48 in Tokyo Dome ~1830m no Yume~ (Day 3)
Disc 7 : AKB48 in Tokyo Dome ~1830m no Yume~ (Making-of and bonus video footage)
Bonus

5 photos
132-page booklet
Single Selection
DVD & Blu-ray

AKB48 in Tokyo Dome ~1830m no Yume~ (Single tracks selection)

Overture
Aitakatta (会いたかった)
Namida Surprise! (涙サプライズ!)
Oogoe Diamond (大声ダイヤモンド)
Iiwake Maybe (言い訳Maybe)
Manatsu no Sounds Good! (真夏のSounds Good!)
10-nen Sakura (10年桜)
Skirt, Hirari (スカート、ひらり)
Keibetsu Shiteita Aijou (軽蔑していた愛情)
Boku no Tayou (僕の太陽)
Kaze wa Fuiteiru (風は吹いている)
Ponytail to Chouchou (ポニーテールとシュシュ)
Flying Get (フライングゲット)
Gingham Check (ギンガムチェック)
Heavy Rotation (ヘビーローテーション)
Yuuhi wo Miteiru ka? (夕陽を見ているか?)
Bingo!
Ue kara Mariko (上からマリコ)
River
Beginner
Everyday, Katyusha (Everyday、カチューシャ)
Sakura no Hanabiratachi (桜の花びらたち)