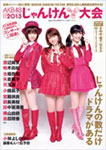 AKB48 Janken Tournament Official Guide Book 2013 (AKB48じゃんけん大会公式ガイドブック2013) will be released on August 30.
The book features the photos of the 85 members of AKB48, SKE48, NMB48, HKT48, and Kenkyuusei who are going to participate in the annual tournament. It also includes articles, a poster, and more.
AKB48 Janken Tournament 2013 (AKB48 34thシングル選抜じゃんけん大会) will be held on September 18 at Nippon Budokan in Tokyo.
Related news :