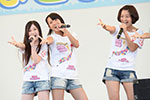 AKB48 Team 8's first original song 47 no Suteki na Machi e (47の素敵な街へ) will be on AKB48's 37th single Kokoro no Placard (心のプラカード) which will be on sale on August 27.
The members of Team 8 performed the song for the first time on July 21 during a live performance at Kobe Meriken Park.
It has been announced that 47 no Suteki na Machi e will appear on the Theater version of Kokoro no Placard.
Yamada Nanami, representative of Hyogo Prefecture, said that the lyrics fit with the concept of the idol group as they are about "47 cities of Japan where we want to go". She added that it is a cheerful song.
Furthermore, the name of the new member who will be the representative of Gifu Prefecture will be unveiled on July 26. She will replace Okubora Chinatsu who graduated from AKB48 Team 8 in June.