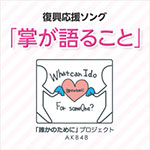 AKB48's charity song Tenohira ga Kataru Koto (掌が語ること) will be released on March 8.
The song will be distributed for free. You can make a donation on the website.
It is part of Dareka no Tame ni (誰かのために) project. This project has been created after the 2011 Tohoku earthquake and tsunami. AKB48 participated in various charity activities to bring their support to people in disaster areas.
AKB48 – Tenohira ga Kataru Koto (MV)