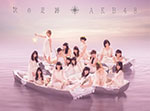 AKB48's 5th album Tsugi no Ashiato (次の足跡) will be released on January 22.
The album Tsugi no Ashiato includes AKB48's latest singles (Manatsu no Sounds Good, Gingham Check, UZA, Eien Pressure, So Long!, Sayonara Crawl, Koi Suru Fortune Cookie) and new songs performed by various teams and sub-units.
4 versions are available. The limited edition comes with a bonus DVD featuring the video of a virtual handshake with each one of the 257 members of AKB48 and their sister groups (SKE48, NMB48, HKT48).
Tracklist
CD1 (Type A & B)

Koi Suru Fortune Cookie (恋するフォーチュンクッキー)
Love Shugyou (Love修行)
Sayonara Crawl (さよならクロール)
Tsuyoi Hana (強い花)
Ano Hi no Fuurin (あの日の風鈴)
Eien Pressure (永遠プレッシャー)
Aozora Cafe (青空カフェ)
UZA
Kimi no Tame ni Boku wa… (君のために僕は…)
Watachitachi no Reason (私たちのReason)
So Long !
Gingham Check (ギンガムチェック)
Manatsu no Sounds Good! (真夏のSounds Good !)
Otona e no Michi (大人への道)
CD2 (Type A)

After Rain
Gugutasu no Sora (ぐぐたすの空)
Boy Hunt no Houhou Oshiemasu (ボーイハントの方法 教えます)
JJ ni Karitamono (JJに借りたもの)
Shower no Ato Dakara (シャワーの後だから)
10 Krone to Pan (10クローネとパン)
Kakushin ga Moterumono (確信がもてるもの)
Team Zaka (チーム坂) (Team 4)
Tsuyosa to Yowasa no Aida de (強さと弱さの間で)
Shimobe wa Ganbaru (僕は頑張る)
Eien yori Tsuzuku you ni (永遠より続くように)
CD2 (Type B)

Smile Kamikakushi (スマイル神隠し)
Taningyougi na Sunset Beach (他人行儀なSunset Beach)
Haste to Waste (ハステとワステ)
Watashi Leaf (わたし リーフ)
Stoic na Bigaku (Stoicな美学)
Ponkotsu Blues (ぽんこつブルース)
Ichi Ni no San (イチニノサン)
Kyouhansha (共犯者)
Douki (動機)
Kanashiki Kinkyori Renai (悲しき近距離恋愛)
Yume no Kawa (夢の河)
DVD

AKB48 Group Members Air Handshake Event (AKB48グループメンバー エア握手会)