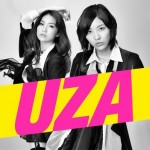 AKB48's 28th single Uza will be released on October 31.
B-side tracks are performed by Undergirls, Team A, Team K, and Team B. They are different depending on the version.
Each edition comes with a DVD featuring music videos.
It also includes a voting card for Request Award Set List Best 100 2013.
Type A
CD

Uza
Tsugi no Season (次のSeason) (Undergirls)
Kodoku na Hoshizora (孤独な星空) (New Team A)
Uza (Instrumental)
Tsugi no Season (次のSeason) (Undergirls) (Instrumental)
Kodoku na Hoshizora (孤独な星空) (New Team A) (Instrumental)
DVD

Uza (Music Video)
Uza (Music Video Dance Ver.)
Tsugi no Season (次のSeason) (Undergirls) (Music Video)
Kodoku na Hoshizora (孤独な星空) (New Team A) (Music Video)
Gingham Check (Music Video ~Takahashi Eiki Ver.~)
Type K
CD

Uza
Tsugi no Season (次のSeason) (Undergirls)
Scrap & Build (スクラップ&ビルド) (New Team K)
Uza (Instrumental)
Tsugi no Season (次のSeason) (Undergirls) (Instrumental)
Scrap & Build (スクラップ&ビルド) (New Team K) (Instrumental)
DVD

Uza (Music Video)
Uza (Music Video Dance Ver.)
Tsugi no Season (次のSeason) (Undergirls) (Music Video)
Scrap & Build (スクラップ&ビルド) (New Team K) (Music Video)
Gingham Check (Music Video ~Takahashi Eiki Ver.~)
Type B
CD

Uza
Tsugi no Season (次のSeason) (Undergirls)
Seigi no Mikata Janai Hero (正義の味方じゃないヒーロー) (New Team B)
Uza (Instrumental)
Tsugi no Season (次のSeason) (Undergirls) (Instrumental)
Seigi no Mikata ja nai Hero (正義の味方じゃないヒーロー) (New Team B) (Instrumental)
DVD

Uza (Music Video)
Uza (Music Video Dance Ver.)
Tsugi no Season (次のSeason) (Undergirls) (Music Video)
Seigi no Mikata ja nai Hero (正義の味方じゃないヒーロー) (New Team B) (Music Video)
Gingham Check (Music Video ~Takahashi Eiki Ver.~)