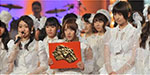 AKB48's Manatsu no Sounds Good won the Japan Record Award (日本レコード大賞) for the Best Song.
AKB48 had already received this grand prize last year for Flying Get.
Akimoto Yasushi also won the award for the Best Songwriter (Uza, Gingham Check, Manatsu no Sounds Good…)
The 54th Japan Record Awards (第54回日本レコード大賞) ceremony was held on December 30.