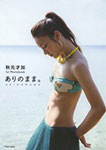 Akimoto Sayaka's 1st photobook Arinomama (ありのまま) will be released on October 22.
The photo shooting was done in Philippines which is the homeland of her mother. It was the first trip of Akimoto Sayaka in this country for 15 years.
The book includes interviews and messages from her friends and members of AKB48 Miyazawa Sae, Oshima Yuko, Yokoyama Yui, Shimada Haruka, Abe Maria, and Ichikawa Miori.
Akimoto Sayaka was a 2nd generation member of AKB48. She graduated from the idol group in August 2013.