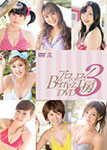 Alo Hello! 3 Berryz Kobo (アロハロ! 3 Berryz工房) will be released on DVD and Blu-ray on July 24.
It is the 3rd episode of the series for the group.
The filming was done in Hawaii. The DVD and the Blu-ray contain 80-minute footage on their trip including off shot and swimsuit scenes.
It complements Alo Hello! Berryz Kobo Photobook 2013 (アロハロ!Berryz工房 写真集 2013) which will go on sale on June 29.