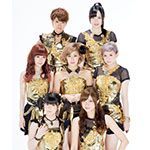 Alo Hello! Berryz Kobo Photobook 2013 (アロハロ!Berryz工房 写真集 2013) will be released on June 29.
The photo shoot was done in Hawaii. The photobook includes many pictures of the members of Berryz Kobo. It comes with a bonus DVD featuring a making-of.
It complements Alo Hello! 3 Berryz Kobo (アロハロ! 3 Berryz工房) which will be on sale on DVD and Blu-ray on July 24.