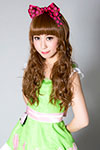 Ayamori Aoi announced that she is going to graduate from Doll☆Elements on December 17.
She explained that she had decided to leave the idol group to get back to a life as a normal girl.
A graduation concert titled Ayamori Aoi Kanshasai ~"Sayonara" kara no "Arigatou"~ (綾森あおい感謝祭~「さよなら」からの「ありがとう」~) will be held on that day at Shibuya WWW in Tokyo.
This surprise announcement was made during the live performance of Doll☆Elements which took place on August 31 at UDX Theater.
Furthermore, Doll Elements' latest single Kimi no Heart ni Tokihanatsu! (君のハートに解き放つ!) is on sale since July 3.