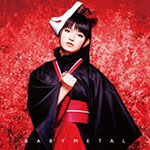 Babymetal's new single Megitsune (メギツネ) will be released on June 19.
The 3 limited editions come with a bonus DVD featuring live performances from Babymetal Live I D Z ~Legend.
The title track is a song mixing traditional Japanese instruments and a heavy metal sound.
On each cover, Babymetal members are wearing a fox mask. It refers to the title of the single, Mitsune, which means "female fox" in Japanese.
Regular Edition
CD

Megitsune (メギツネ)
Akatsuki (紅月-アカツキ-)
Megitsune (メギツネ) (Air Vocal Ver.)
Akatsuki (紅月-アカツキ-) (Air Vocal Ver.)
Limited Edition "Ki" (キ)
CD

Megitsune (メギツネ)
Onedari Daisakusen (おねだり大作戦)
DVD (Live Clip 2012.10.6「I、D、Z ~ Legend "I"」at Shibuya O-East)

Overture ~ Doki Doki☆Morning (ド・キ・ド・キ☆モーニング)
Headbanger!! (ヘドバンギャー!!)
Limited Edition "Tsu" (ツ)
CD

Megitsune (メギツネ)
Onedari Daisakusen (おねだり大作戦)
DVD (Live Clip 2012.12.20 「I、D、Z ~ Legend "D" Su-Metal 聖誕祭」 at Akasaka Blitz

Babymetal Death
Kimi to Anime ga Mitai (君とアニメが見たい) ~ Answer for Animation With You
Limited Edition "Ne" (ネ)
CD

Megitsune (メギツネ)
Onedari Daisakusen (おねだり大作戦)
DVD (Live Clip 2013.2.1 「I、D、Z ~ Legend "Z"」 at Zepp Tokyo)

Overture ~ Image, Dame, Zettai (イジメ、ダメ、ゼッタイ)
Catch Me If You Can
Video
PV
Special Trailer