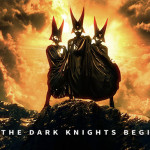 Babymetal World Tour 2015 will be held from May 9th to June 21st.
Babymetal will give concerts in Mexico, Canada, USA, Germany, Austria and Japan.
Check out the full schedule of Babymetal World Tour 2015.
The idol group is going to participate in some rock festivals in North America and Europe alongside famous bands such as Muse, Metallica, Kiss, Incubus, Limp Bizkit, Judas Priest, Faith No More…
The final live performance will be held in Chiba, Japan.
Moreover, the new visual artwork of the idol group has been unveiled. The members of Babymetal appear in strange costumes and a mysterious legend says : "The Dark Knights begin".
Schedule :
May 9th : Circo Volador, Mexico City, Mexico
May 12th : Danforth Music Hall, Toronto, Canada
May 14th : House of Blues, Chicago, USA
May 16th : Rock on the Range, Columbus, USA
May 29th-31st : Der Ring – Grüne Hölle Rock, Nürburg, Germany
May 29th-31st : Rockavaria, Munich, Germany
June 4th-6th : Rock in Vienna, Vienna, Austria
June 21st : Makuhari Messe, Chiba, Japan