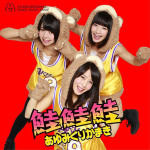 Ayumikurikamaki's new single Shake, Shake, Shake (鮭鮭鮭) will be released on March 4.
It is the major debut single of Ayumikurikamaki under the label DefStar Records.
It is the theme song for the drama Bittare!! (びったれ!!!) airing on tvk since January 2015.
The MV has been unveiled. However, its viewing is restricted to some countries.
The lyrics of Shake Shake Shake and of the B-side track Jibun Kakumei were written by Inoue Joe. The music was composed and arranged by Apazzi & U.M.E.D.Y.. These songwriters had already worked with the idol group on its previous single Jet Kuma Star (ジェットクマスター).
Drummer Arimatsu Masuo (Back Drop Bomb), bassist 4106xxx (Scafull King, Brazilian Size) and guitarist Kuboty (Total Fat) participated in the recording of both songs.
The coupling song Kimi no Moto e was written and composed by Hiroyuki Fujino. It was arranged by Unlimits.
Pablo (Pay Money to my Pain) served as guitarist on this track.
The limited edition includes a bonus DVD featuring the music videos, its making-of and live footage from the concert Sonkei no Gig vol.2 which took place on November 3, 2014.
Moreover, Ayumikurikamaki One-man Live Bokura no Kuma Tamashii 2015 (あゆみくりかまきワンマンライブ ボクらの熊魂2015〜いよいよ初鰹が美味しい季節ですよね編〜) will be held on April 26 at Shibuya WWW, Tokyo.
Tracklist
Regular Edition

CD

Shake, Shake, Shake (鮭鮭鮭)
Kimi no Moto e (キミノモトヘ)
Jibun Kakumei (自分革命)
Shake, Shake, Shake (Instrumental)
Kimi no Moto e (Instrumental)
Jibun Kakumei (Instrumental)
Limited Edition

CD

Shake, Shake, Shake (鮭鮭鮭)
Kimi no Moto e (キミノモトヘ)
Shake, Shake, Shake (Instrumental)
Kimi no Moto e (Instrumental)

DVD

Shake, Shake, Shake (Music Video)
Making
Live Footage from "Sonkei no Gig vol.2" (「尊敬という名のGIG vol2」) (2014.11.3)
Music Video (PV)