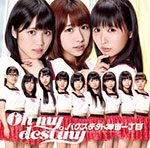 Bakusute Sotokanda Icchome's new single Oh my Destiny will be released on November 20.
It is the 3rd major single from Bakusute Sotokanda Icchome.
5 versions are available. The Type A and B editions include a DVD with the music video and bonus footage. The Type C comes with a 24-page photo booklet.
Check out the short version of the music video.
Regular Edition
CD

Oh My Destiny
Winter Romance
Oh My Destiny (Instrumental)
Winter Romance (Instrumental)
Limited Edition Type A / B / C
CD

Oh My Destiny
Idol ga Classmate na no ni, Kizukanai Kimitachi wa Joujaku Otsu Desho (アイドルがクラスメイトなのに、気付かないキミ達は情弱乙でしょ)
Oh My Destiny (Instrumental)
Idol ga Classmate na no ni, Kizukanai Kimitachi wa Joujaku Otsu Desho (アイドルがクラスメイトなのに、気付かないキミ達は情弱乙でしょ) (Instrumental)
DVD (Type A)

Oh My Destiny (Music Video)
Oh My Destiny (Making-of)
DVD (Type B)

Oh My Destiny (Music Video)
Oh My Destiny – Minna de Odorou!! Bakusute Sotokanda Icchome ni Yoru Dance Lesson (みんなで踊ろう!!バクステ外神田一丁目によるダンスレッスン映像)
24-page Photo Booklet (Type C)
Limited Edition Type D
CD

Oh My Destiny
Oh My Destiny (Instrumental)
Music Video (PV)