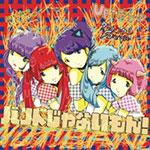 Band Ja Naimon! will release their new single Up↑ Prime / Takatokotan -Forever- (Up↑ぷらいむ / タカトコタン-Forever-) on August 21.
This double A-side single includes only 2 songs.
It is the 1st release from Band Ja Naimon! since 3 new members were added in May.
The lyrics of Up↑ Prime were written by Misako who is a member of the idol group.
Tracklist
Up↑ Prime (Up↑ぷらいむ)
Takatokotan -Forever- (タカトコタン-Forever-)