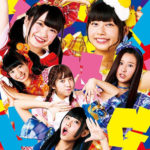 Beboga! (Niji no Conquistador Yellow Team) released their new album on December 19th.
It's entitled BBG! and this is their first album.
As you may have noticed, Beboga! is a sister unit of the idol group Niji no Conquistador and is part of the yellow team (Kigumi) within the group.
Check out the MV for their new song Mengou !! ~Ibu wa Iroiro Aru no Desu~. This song is a Christmas song.
You can find, in this album, Beboga!'s first single 4 Moji Melody released in last August.
The album is sold in two editions (regular and limited).
The limited edition CD contains a bonus song and the DVD contains video clips and a live video.
Tracklist
Regular Edition

CD

OVERTURE
Kachitobase! Eikou no Rainbow (かちとばせ! 栄光のレインボー)
4 Moji Melody (4文字メロディー)
Junjou NAMIDA Katarushisu (純情NAMIDAカタルシス)
Drama Yori mo Dramatic (ドラマよりもドラマティック)
Mengou!! ~Ibu wa Iroiro Aru no Desu~ (めんごっ ~イブは色々あるのです~)
Koi no Borderline (恋のボーダーライン)
Akanesukai (アカネスカイ)
B.U.S.U. -Busu (B.U.S.U -ぶす-)
Episode 2U (エピソード2U)
Kono Koi, Dangan Liner (この恋、弾丸ライナー)
Limited Edition

CD

OVERTURE
Kachitobase! Eikou no Rainbow (かちとばせ! 栄光のレインボー)
4 Moji Melody (4文字メロディー)
Junjou NAMIDA Katarushisu (純情NAMIDAカタルシス)
Drama Yori mo Dramatic (ドラマよりもドラマティック)
Mengou!! ~Ibu wa Iroiro Aru no Desu~ (めんごっ ~イブは色々あるのです~)
Koi no Borderline (恋のボーダーライン)
Akanesukai (アカネスカイ)
B.U.S.U. -Busu (B.U.S.U -ぶす-)
Episode 2U (エピソード2U)
Kono Koi, Dangan Liner (この恋、弾丸ライナー)
Tsudoe! Frontierana (Niji no Conquistador Version) (集え! フロンティアーナ)

DVD

Mengou!! ~Ibu wa Iroiro Aru no Desu~ (Music video)
B.U.S.U. – Busu (Music video)
Kachitobase~ Eikou no Rainbow (Music video)
Drama Yori mo Dramatic (Music video)
4 Moji Melody (Music video)
OVERTURE ~Kono Koi, Dangan Liner (Live performance @ Shibuya DUO MUSIC EXCHANGE)
M
Music Video (PV)