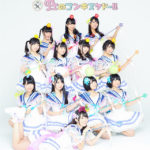 Niji no Conquistador (虹のコンキスタドール) is a Japanese idol group formed in 2014.
They are also known as NijiCon (虹コン) or 2zicon.
It currently consists of 11 members.
The theme of the idol group is : "Every day is a Culture Festival".
The girls are split into Red Team and Blue Team (Sagittarius Meteor Shower).
The Yellow Team became an independent idol group which took the name of Beboga! (ベボガ!).
Biography / History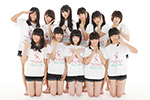 Niji no Conquistador is part of Tsukudol! Project (つくドル!プロジェクト).
The name of the idol unit means "Conquistador del Arcoíris" in Spanish.
The concept is that the girls challenge various activities such as cosplay, voice acting, drawing illustrations.
Kinoshita Hiyori is the younger sister of fashion model and Hime Carat member Kinoshita Hinako.
Nemoto Nagi is a former member of Mito Gotochi Idol (Kari). She is also a popular gravure idol.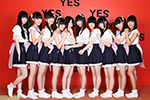 Nagata Minari was part of w-Street Fukuoka.
Auditions were held in May 2014.
The list of the selected members was unveiled at Tokyo Idol Festival 2014 in early August.
Their fan club NijiCon Daisuki Club (虹コンだいすきクラブ) was created in August 2014.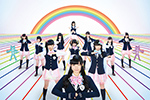 The girls host the regular program Jouhou wa Yoru no 7-Ji (情報は夜の7時) on Showroom since September 2014.
The idol group held its 1st one-man live Kakumeiteki xxx (革命的xxx) in January 2015 at Shinjuku Blaze, Tokyo.
They were the special guests of Anime Festival Asia Thailand 2015 (AFATH) in Bangkok in May.
Niji no Conquistador signed under AsobiSystem's label Fujiyama Project Japan along with Lovely Doll and Yamaguchi Kassei Gakuen in May 2015.
Yoshimura Nana has been demoted to trainees in May 2015.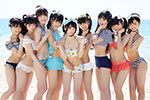 The girls participated in a promotional campaign for Sisters drink shops in Ikebukuro and Harajuku in May 2015.
Tsurumi Moe performed at Japan Expo 2015 in Paris Nord Villepinte, France, in July.
The MV for 2zicon's 3rd single The Uchouten Summer (THE☆有頂天サマー!!), on sale in August 2015, was filmed at the seaside and on the beach in Fukuoka.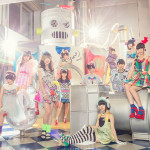 Otsuka Miyu and Yamato Ao were promoted from trainees to regular members in August 2015.
Niji no Conquistador participated in Comic Con India in September 2015.
Nishi Nanami and Kinoshita Hiyori announced their graduation in October 2015.
Nijicon's 1st album Rainbow Spectrum (レインボウスペクトラム) was released in November 2015.
The idol group was the special guest of Anime Festival Asia 2015 (AFA) in Singapore in November.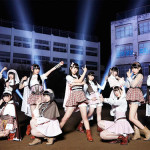 In January 2016, Niji no Conquistador collaborated with famous manga artists and illustrators such as Man Gataro, Sekiya Yurie, Kishida Mel, as part of the Idol Tshirt Project.
The girls were fighting for the boy they love in the MV for Senjou no St Valentine (戦場の聖バレンタイン) on sale in February 2016. They used various weapons such as a sword, a gun…
Their official Line account was opened in February 2016.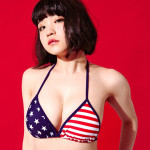 Nemoto Nagi made her solo debut with the singles Purity, America and Peppermint Dassou Keikaku (ペパーミント脱走計画) successively released in February, in March and in April 2016 under Maltine Records.
The complete version of the MV for Niji no Conquistador's 5th single Alien Girl in New York (↓エイリアンガール・イン・ニューヨーク↑), on sale in May 2016, is 60-minute length.
In May 2016, Nagata Minari was fired by Pixiv agency due to breach of contract.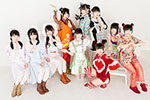 NijiCon performed at Japan Festival Mississauga 2016 in Canada in July. The members who participated in the event were Shigematsu Yuka, Nakamura Akari, Tsurumi Moe, Shimizu Riko and Yamazaki Nana.
In July 2016, idol group Baseball Girls (ベースボールガールズ) moved to Pixiv and changed its name to Beboga! (ベボガ!). It became Niji no Conquistador's yellow group (虹のコンキスタドール黄組).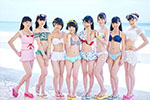 The girls appeared in a commercial for Chikin Ramen (チキンラーメン) in July 2016.
Their 6th single Kagirinaku Bouken ni Chikai Summer (限りなく冒険に近いサマー) went on sale in September 2016. The MV was filmed in Okinawa. In the video, the girls are dancing in bikini on the beach and having fun during vacation.
Shigematsu Yuka graduated in September 2016 in order to focus on studies. She wants to become a doctor.
Okumura Nonoka, Tsurumi Moe and Nakamura Akari attended Anime Festival Asia AFA Singapore 2016 in November.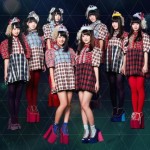 Niji no Conquistador's 2nd album Rainbow Eclipse (レインボウエクリプス) was released in December 2016. It includes the song Paradoxical Complex (パラドキシカル・コンプレックス).
The songs of the singles Love Men Koi Aji Yawame (Love麺 恋味 やわめ) and Retort ~Kareinaru Ai~ (レトルト〜華麗なる愛〜) were downloadable from a QR code on a package of cup noodles.
The unit Sagittarius Meteor Shower (Blue Team) was formed in January 2017. Okada Ayame, Shimizu Riko, Hiruta Airi and Yamasaki Nana were promoted to regular members and joined this group.
Ishihara Mia withdrew in late January 2017.
The idol group performed at in Tale in Wonderland Taiwan in April 2017.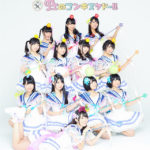 Niji no Conquistador made their major label debut with the DVD single † No Life Baby of the End † (†ノーライフベイビー・オブ・ジ・エンド†) released in April 2017 under King Records label. It is the theme song for the movie Hijiri Zombie Jogakuin.
In May 2017, Suyama Emiri announced that she was going on hiatus for an indefinite period. She has been forced to suspend her activities with the idol group due to health problems.
Otsuka Miyu announced her graduation from the idol group in May 2017. She explained that she had decided to focus on studies.
Okumura Nonoka, Tsurumi Moe, Suyama Emiri, Nemoto Nagi, Nakamura Akari, Matoba Karin, Otsuka Miyu are starring in the movie Hijiri Zombie Jogakuin (聖ゾンビ女学院) released in May 2017. Some other member of the idol group make also an appearance in the film.
NijiCon are going to participate in Japan Expo 2017 in Paris Nord Villepinte, France, in July.
Niji no Conquistador's 1st photobook Rainbow Island will be published in July 2017.
Profile
Niji no Conquistador (虹のコンキスタドール)
Years active : 2014 – present
Label : King Records
Agency : Pixiv
Members
Red Team (虹のコンキスタドール赤組)
Okumura Nonoka (奥村野乃花)
Suyama Emiri (陶山恵実里)
Tsurumi Moe (鶴見萌)
Nakamura Akari (中村朱里)
Nemoto Nagi (根本凪)
Matoba Karin (的場華鈴)
Yamato Ao (大和明桜)
Sagittarius Meteor Shower (Blue Team) / サジタリアス流星群(虹コン青組)
Okada Ayame (岡田彩夢)
Shimizu Riko (清水理子)
Hiruta Airi (蛭田愛梨)
Yamasaki Nana (山崎夏菜)
Beboga! (Yellow Team) / ベボガ!(虹コン黄組)
Kaname Rin (鹿目凛)
Hazuki Rika (葉月梨花)
Higuchi Aya (樋口彩)
Mizusawa Kokoa (水沢心愛)
Mito Shinobu (水戸しのぶ)
Mihama Arisa (三浜 ありさ)
Trainees
Kataoka Miyu (片岡未優)
Kumamoto Marina (隈本茉莉奈)
Arai Sayaka (荒井紗也香)
Former Members
Miyako Asuka (宮古あすか)
Kaneko Mizuki (金子みずき)
Iwakura Azusa (岩倉あずさ)
Yoshimura Nana (吉村菜々)
Nishi Nanami (西七海)
Kinoshita Hiyori (木下ひより)
Ito Yuka (伊藤有香)
Nagata Minari (長田美成)
Kai Marino (甲斐莉乃)
Shigematsu Yuka (重松佑佳)
Ishihara Mia (石原深愛)
Otsuka Miyu (大塚望由)
Discography
Singles
25/10/2014 : Pixiv Ondo (ぴくしぶおんど)
17/12/2014 : Nijiiro Philosophy (にじいろフィロソフィー)
08/04/2015 : Yarukkyanai! 2015 / Brand New Happy Days (やるっきゃない!2015 / ブランニューハッピーデイズ)
25/08/2015 : The Uchouten Summer!! (The☆有頂天サマー!!)
11/02/2016 ; Senjou no St Valentine (戦場の聖バレンタイン)
17/05/2016 : Alien Girl in New York (↓エイリアンガール・イン・ニューヨーク↑)
20/09/2016 : Kagirinaku Bouken ni Chikai Summer (限りなく冒険に近いサマー)
19/12/2016 : Love Men Koi Aji Yawame (Love麺 恋味 やわめ)
09/01/2017 : Retort ~Kareinaru Ai~ (レトルト〜華麗なる愛〜)
26/04/2017 : † No Life Baby of the End † (†ノーライフベイビー・オブ・ジ・エンド†)
Albums
03/11/2015 ; Rainbow Spectrum (レインボウスペクトラム)
13/12/2016 : Rainbow Eclipse (レインボウエクリプス)
Links
News