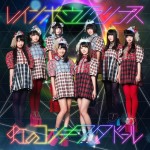 Niji no Conquistador's 2nd album Rainbow Eclipse (レインボウエクリプス) will be released on December 13.
This album contains 12 songs including Niji no Conquistador's latest singles Senjou no St. Valentine, Alien Girl in New York and Kagirinaku Bouken ni Chikai Summer.
The MV for the idol group's new song Paradoxical Complex (パラドキシカル・コンプレックス) has also been unveiled.
It is the ending theme for the variety show Dai 2 no Are (第2のアレ) airing on TV Tokyo.
Furthermore, Niji no Conquistador's live Doushite mo Iitai Koto ga Arunda yo ~NijiCon Kara Taisetsu na Oshirase ga Arimasu~ (どうしても言いたいことがあるんだよ 〜虹コンから大切なお知らせがあります〜) will be held on January 9, 2017 at Club Citta' in Tokyo.
Tracklist
CD

Senjou no St. Valentine (戦場の聖バレンタイン)
Kagirinaku Bouken ni Chikai Summer (限りなく冒険に近いサマー)
Paradoxical Complex (パラドキシカル・コンプレックス)
Watashi Tokidoki, Mahou Shoujo (わたし時々、魔法少女)
Alien Girl in New York (↓エイリアンガール・イン・ニューヨーク↑)
Daikirai Deshita (大キライでした。)
Cosmetic Star (コスメティック☆スター)
Magic The Labyrinth
Tenkou Sekka, Natsu Hanabi (電光石火、夏花火。)
Paradise na Kataomoi (パラダイスな片思い)
Kiseki 100% (奇跡100%)
Mirai Joujou!! (ミライ上々!!)
DVD

Senjou no St. Valentine (Music Video)
Alien Girl in New York (Original ver. Music Video)
Kagirinaku Bouken ni Chikai Summer (Music Video)
Paradoxical Complex (Music Video)
Music Video (PV)