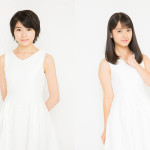 Morning Musume revealed the 2 members who are going to join the idol group as 13th Generation members. They are Kaga Kaede and Yokoyama Reina.
Both girls were already part of Hello! Project as Hello Pro Kenshuusei.
Nobody succeeded the general audition.
Kaga Kaede and Yokoyama Reina were introduced during Morning Musume '16 Autumn Concert Tour ~My Vision~ held at Nippon Budokan on December 12.
The 13th Generation members will make their debut as part of Morning Musume '17 in January 2017.
Kaga Kaede was a member of Hello Pro Kenshuusei for 4 years, since November 2012.
Yokoyama Reina had reached the 3rd round of the Morning Musume audition in January 2016, but she was recruited as part of Hello Pro Kenshuusei in September 2016.
Here are some details about their profile.
Kaga Kaede (加賀楓)
Birthday: 30/11/1999 (17 years old)
Birthplace: Tokyo
Height: 162cm
Hobbies: Karaoke, watching animes
Special skill: Trumpet, kendo 1-dan
Yokoyama Reina (横山玲奈)
Birthday: 22/02/2001 (15 years old)
Birthplace: Saitama
Height: 152.5cm
Hobbies: Singing, dancing
Special skill: Jazz dance, saxophone