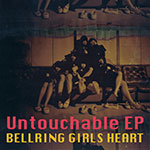 Bellring Girls Heart's new single Untouchable EP will be released on January 22.
This is the 5th single from Bellring Girls Heart, also known as Bellring Shoujo Heart.
Moreover, a video of the concert of the idol group titled Bell Heart Chan Santa Live (ベルハーちゃんサンタLive) held on Christmas has been released.
c.a.n.d.y. is a grunge rock song inspired by bands such as Blur and Nirvana.
The coupling track Rice to Tuning (ライスとチューニング) is a remix by Sange (懺悔) of the song which was on Bellring Girls Heart's latest album BedHead on sale since August 10.
The CD contains 5 tracks including 2 instrumental versions.
Tracklist
Tsuki no Mashita de Ookami-san ni Tazunemashita (月の真下でオオカミさんに尋ねました。)
c.a.n.d.y.
Rice to Tuning (ライスとチューニング) (懺悔Mix)
月Tsuki no Mashita de Ookami-san ni Tazunemashita (真下でオオカミさんに尋ねました。) (off vocal)
c.a.n.d.y. (off vocal)
Video (Live)