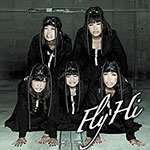 BiS' new single Fly / Hi will be released on September 18.
It is a double A-side single.
It contains 2 songs and their acapella and instrumental versions.
The limited editions come with a bonus DVD featuring either the music video and its making-of or footage from the live held by BiS Kaidan at Shibuya WWW.
Tracklist
CD

Fly
Hi
Fly (Acapella)
Hi (Acapella)
Fly (Instrumental)
Hi (Instrumental)
DVD (Type A)

2013.8.7 Live "BiS Kaidan (BiS階段)" @ WWW
Suki Suki Daisuki (好き好き大好き) (Bis Kaidan)
DVD (Type B)

Fly (Music Video)
Fly (Making-of)
Music Video (PV)