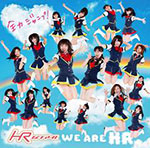 HR (Hakata Reboot) will release their new single Zenryoku Jump! (全力ジャンプ!) on September 11.
It is the 3rd single from HR. 5 editions are available.
The limited editions Type A and B include a DVD featuring either the music video or its making-of footage.
The Type C comes with a 2nd disc including a bonus track.
Tracklist
CD

Zenryoku Jump! (全力ジャンプ!)
Run-Bu
Zenryoku Jump! (全力ジャンプ!) (Instrumental)
Run-Bu (Instrumental)
DVD (Type A)

Zenryoku Jump! (全力ジャンプ!) (Music Video)
DVD (Type B)

Zenryoku Jump! (全力ジャンプ!) (Making-of)
CD2 (Type C)

Koiseyo Otome ~Hakkan Kei~ / Splash Revolution (恋せよ乙女~発汗系~ / スプラッシュレボリューション)
Koiseyo Otome ~Hakkan Kei~ / Splash Revolution (恋せよ乙女~発汗系~ / スプラッシュレボリューション) (Instrumental)
Music Video (PV)