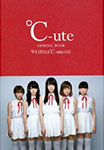 °C-ute 1st Official Book (℃-ute 1stオフィシャルブック) will be released on September 10.
The book includes long interviews with the 5 members of °C-ute answering to 100 questions and talking about their solo projects.
It also features photos of the idol group taken from the Hello! Project Kids era to nowadays.
Available at a low price, this item is a must have for a fan of °C-ute.
It will go on sale on September 10 which is officially °C-ute's Day (°Cuteの日).