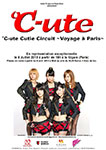 °C-ute will hold a concert in France on July 5. This concert is titled °C-ute Cutie Circuit ~Voyage à Paris~. It will take place at La Cigale.
It will be the first live performance of the idol group from Hello! Project outside Japan.
°C-ute membres may also participate in Japan Expo as guests. Indeed, the largest convention on Japanese culture in Europe will be held on July 4-7 at Villepinte near Paris.
The tickets will go on sale on April 8 at 12:00. The price is 38,80 € (+ booking fees).
The announcement was made by Tsunku during a release event for their latest single Crazy Kanzen na Otona (Crazy 完全な大人) and available on their YouTube Channel.
Schedule
Date : 05/07/2013
Time : 18:00
Venue : La Cigale, Paris
Video messages from °C-ute