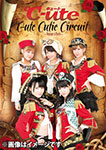 °C-ute Cutie Circuit ~Voyage à Paris~ will be released on DVD in November.
As its title suggests, this DVD includes footage of the trip of °C-ute in France, including their concert held in Paris on July 5 at La Cigale and other videos.
°C-ute performed 22 songs including their greatest hits during this concert.