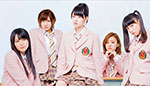 °C-ute members will be starring in the stage play Sakura no Hanataba (さくらの花束).
The play will run from March 14 to 24 at Ikebukuro Theater Green, Tokyo. It will be performed simultaneously on 3 different stages : Big Tree Theater, Box in Box Theater, and Base Theater.
Sakura no Hanataba is part of Gekidan Gekiharo project.
Schedule
14/03/2013 : 19:00
15/03/2013 : 19:00
16/03/2013 : 11:30 / 15:00 / 18:30
18/03/2013 : 19:00
19/03/2013 : 15:00 / 19:00
20/03/2013 : 11:30 / 15:00 / 18:30
21/03/2013 : 15:00 / 19:00
22/03/2013 : 19:00
23/03/2013 : 11:30 / 15:00 / 18:30
24/03/2013 : 11:30 / 15:00 / 18:30
°C-ute – Sakura no Hanataba (TV Spot)
°C-ute – Sakura no Hanataba (Video Comment)