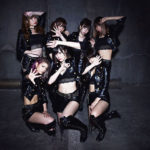 Candy Go! Go! will release their new album Idorock on December 28.
This is the 1st album of Candy Go! Go! under a major label.
As the title suggests, the CD contains 15 rock songs by the idol group including their latest singles and new ones.
The MV for Candy Go! Go!'s new song High Ball no Seiyaku (ハイボールの制約) has also been unveiled.
Several artists such as OKB, Honda Takeshi (Personz), Hashiguchi Kanaderiya, Feelflip… collaborated with the idol group from Shibuya to write the lyrics and compose the music.
The limited edition comes with a bonus DVD featuring 4 music videos and bonus footage.
Tracklist
CD

before daylight
High Ball no Seiyaku (ハイボールの制約)
overdrive
Itsuka Wasurerarenai Onna ni Naru (いつか忘れられない女になる)
JUMP×JUMP
Onechan Summer (ワンチャン☆サマー)
With Your Smile
Get Down! Jealousy! Love Love You! (ゲッダン!ジェラシー!ラブラブユー!)
Walk below the rainbow
Hybrid Love
Jiken File.055 (事件File.055)
Christmas Eve (クリスマス・イヴ)
Taisetsu na Oshirase (大切なお知らせ)
The Sun Also Rises
endroll
DVD

overdrive (Music Video)
Onechan Summer (Music video)
endroll (Music Video)
High Ball no Seiyaku (Music Video)
Off-shot (オフショット)
Music Video (PV)