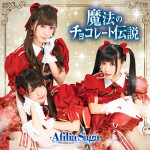 Afilia Saga unveiled their 18th single Mahou no Chocolate Densetsu (魔法のチョコレート伝説).
It will be released on January 25.
Check out the MV.
Members Love Berry Janne and Myuna Shulita will graduate from Afilia Saga on December 21, 2016. They did not participate in the music video. Yukafin Doll is still in the idol group although she announced her graduation more than a year ago.
The song Mahou no Chocolate Densetsu was written by Momoi Haruko is composed by Kamiya Aya. Its theme is chocolate on Christmas and Valentine's Day.
The song Kono Uta ni Eien no Ai o Sasage ku was written and composed by Kimura Yuki.
The song Precious memories was written by Aikawa Ai and composed by Hamada Mikihiro.
Several editions will be available.
Tracklist
Type A

CD

Mahou no Chocolate Densetsu (魔法のチョコレート伝説)
Kono Uta ni Eien no Ai o Sasage ku (この歌に永遠の愛を捧ぐ)
Mahou no Chocolate Densetsu (Instrumental)
Kono Uta ni Eien no Ai o Sasage ku (Instrumental)
Type B

CD

Mahou no Chocolate Densetsu (魔法のチョコレート伝説)
Precious memories
Mahou no Chocolate Densetsu (Instrumental)
Precious memories (Instrumental)
Type C / D

CD

Mahou no Chocolate Densetsu
Mahou no Chocolate Densetsu (Instrumetal)
Limited Edition

CD

Mahou no Chocolate Densetsu (魔法のチョコレート伝説)
Kono Uta ni Eien no Ai o Sasage ku (この歌に永遠の愛を捧ぐ)
Precious memories
Mahou no Chocolate Densetsu (Instrumental)
Kono Uta ni Eien no Ai o Sasage ku (Instrumental)
Precious memories (Instrumental)

DVD

Mahou no Chocolate Densetsu (Music Clip)
Mahou no Chocolate Densetsu (Making-of clip)
Music Video (PV)