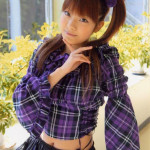 Iwashima Manami (岩嶋雅奈未) birthday is today and may all of her birthday wishes come true.
Iwashima Manami is a former member of SI☆NA and HAPPY! STYLE. She auditioned for Morning Musume in 2005 as a 7th generation but failed. She joined Up Front Kansai (sub-divison of Hello! Project) and became an official member of SI☆NA (2008-2011). The idol group disbanded in 2011 and she released solo single as well. She retired from show business on February 26, 2013.
Iwashima Manami was born on December 17, 1989.
Q/A
Hobby: reading
Food: celery